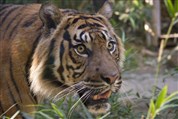 Melissa Richards

Expires
Tuesday, 17 February 2015
Melissa's run for Sumatran Tigers
Running for the Wild
Please sponsor me. I'm aiming to raise $5,000 for Sumatran Tigers
Only two weeks to go until I run 23 hilly kms at the Great Ocean Road Half Marathon on 18 May. I'm hoping to raise over $5,000 for critically endangered Sumatran Tigers.
My hips hurt, my back hurts but I'm determined to keep running because every day, Sumatran Tigers are dying. Less than 400 survive in the wild due to illegal poaching and destruction of their habitat for agriculture. They are hunted for their skins and bones.
So far my amazing friends and family have donated $4,668. Any donation big or small would be fantastic.
Your donation will go to the Taronga Conservation Society Australia to help conserve Sumatran Tigers, with over 30 bred at the Zoo since 1979. Taronga's breeding program acts as an insurance against extinction in the wild. Taronga also campaigns for sustainably grown palm oil in tiger habitats and partners with international groups to protect Sumatran Tigers in the wild from poaching.
Thank you for your support, Melissa

Taronga Foundation
The Taronga Foundation
Taronga has been a respected name in the care of animals for almost 100 years.  
The Taronga Foundation was created in 2000 to give our visitors and supporters an easy way to get directly involved in our Zoos and support animal conservation, education and research.
Since then our supporters have helped the Taronga Conservation Society Australia build world-class exhibits and facilities and support our vital scientific research, education and breeding programs.
The Taronga Foundation also contributes to conservation projects for threatened and endangered wildlife in Australia and around the world.
Donations made to the Taronga Foundation are fully tax deductible.
FUNDOMETER
Target
$5,000
Raised So Far
$5,690
Biggest Supporters:
Anonymous: $1,000.00
Tom Hubbard: $250.00